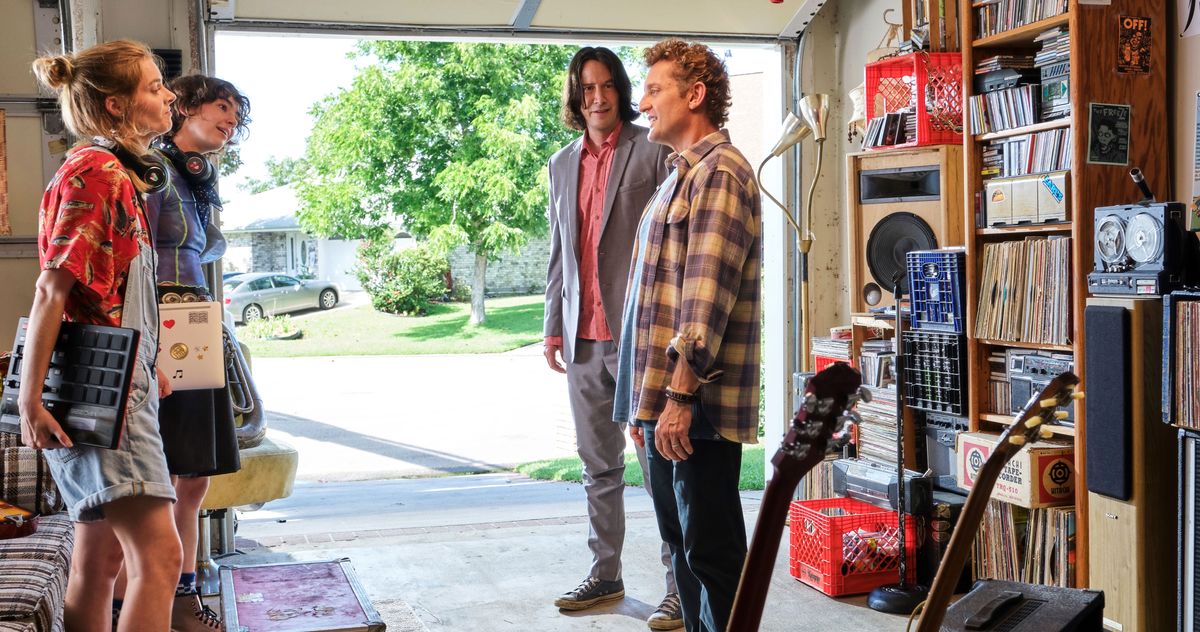 I love Bill & Ted. I saw both of the original movies when I was in high school and was going through some stuff. Connecting with one of my, then, casual acquaintances over them really did a lot to get me through what I was going through and it also led to him becoming one of my best friends. Oh, it also got me into rock. So that's cool.
Almost 30 years after 1991's Bill & Ted's Bogus Journey, the Wyld Stallions are back to finish unifying the world (and saving existence itself) in Bill & Ted's Face the Music. And honestly, I couldn't be happier with the results.
Wow. I can't believe I just typed that. Seriously. If I had a time machine and could go back in time a year or soo to when we were seeing our first images of this movie, I'd immediately run up to my other-self, grab him by his shoulders, and say: "Dude! You aren't going to believe this but Bill & Ted 3 is like, most triumphant!"
I genuinely think my other-me would try to have me committed on the spot.
It's easy to look at the (many) revivals of cult properties from yesteryear and immediately write them off as being unnecessary before we've ever given them a chance. And honestly, who can blame us for being a bit exhausted by the nonstop cashing in on nostalgia? It's simply everywhere and, for the most part, hasn't been done well often enough to justify why people keep making this stuff. While some of these revivals/blasts from the past have been good, a lot of them have honestly just sucked… And yeah, some of those bad ones are still a lot of fun to watch, but it's never for the right reasons.
Thankfully, Face the Music isn't one of those cases. I genuinely had a great time with this movie. Was it necessary? Nah. Was it stupid? Absolutely. But aren't those two things already sown into the fiber of the Bill & Ted franchise? I mean, we're talking about a series that revolves around two California rockers that use time travel and try to save the world through the power of song. While I was confused as to how this movie would justify its existence, I also recognize that it probably wouldn't have had to try that hard to come up with a reason for why it exists.
Without jumping into spoiler territory, all I can say is that this movie has something for fans of both of its predecessors. Bill & Ted's Excellent Adventure fans will find that the movie has enough time-jumping shenanigans that are equal parts throwback and new, while fans of Bill & Ted's Bogus Journey will find enough references to that movie with similar execution.

A common problem I have with a lot of revivals is an over-reliance on stock footage and nostalgia to make up for, what's more often than not, a lack of content. Thankfully, I don't think that's the case here; this movie doesn't overdo the nostalgia, nor does it lack in content. Instead, it uses the past as a stepping stone to take the story in a new direction, while using the basic premise of both of the original movies to help keep the tone familiar for fans of the franchise.
Ultimately, Bill & Ted Face the Music is a great time. None of its scenes overstay their welcome, the celebrity cameos are fun and don't feel shoehorned, and the cast clearly had a great time returning to their characters after so much time away. And the new characters? Great. I won't spoil anything but, as far as I'm concerned, Billie and Thea stole the show in every scene they were in for me and I genuinely wish could have worked in at least another 30 minutes of them and their Dad's adventuring. As it stands though, this movie was a delight to watch, even if it did kinda leave me wanting more.
Either way, I definitely recommend this movie to fans of the Bill & Ted franchise and to anyone looking for fun wholesome-but-still-kinda-macabre/rock humor in their lives! It's message that music can unite us fits right in with its predecessors and it's humor is dorky and playful in all the right places. What else can I say; it was way better than I expected it to be and is a welcome addition to the series!
Hope you enjoyed this review! If you wanna hear more of my thoughts on Bill and Ted, why not check out one of my two podcast episodes on the Bill and Ted TV shows? They're both called Bill and Ted's Excellent Adventures, and that's very confusing! You can check them out by listening to my podcast, Media Obscura, from your favorite podcast player!